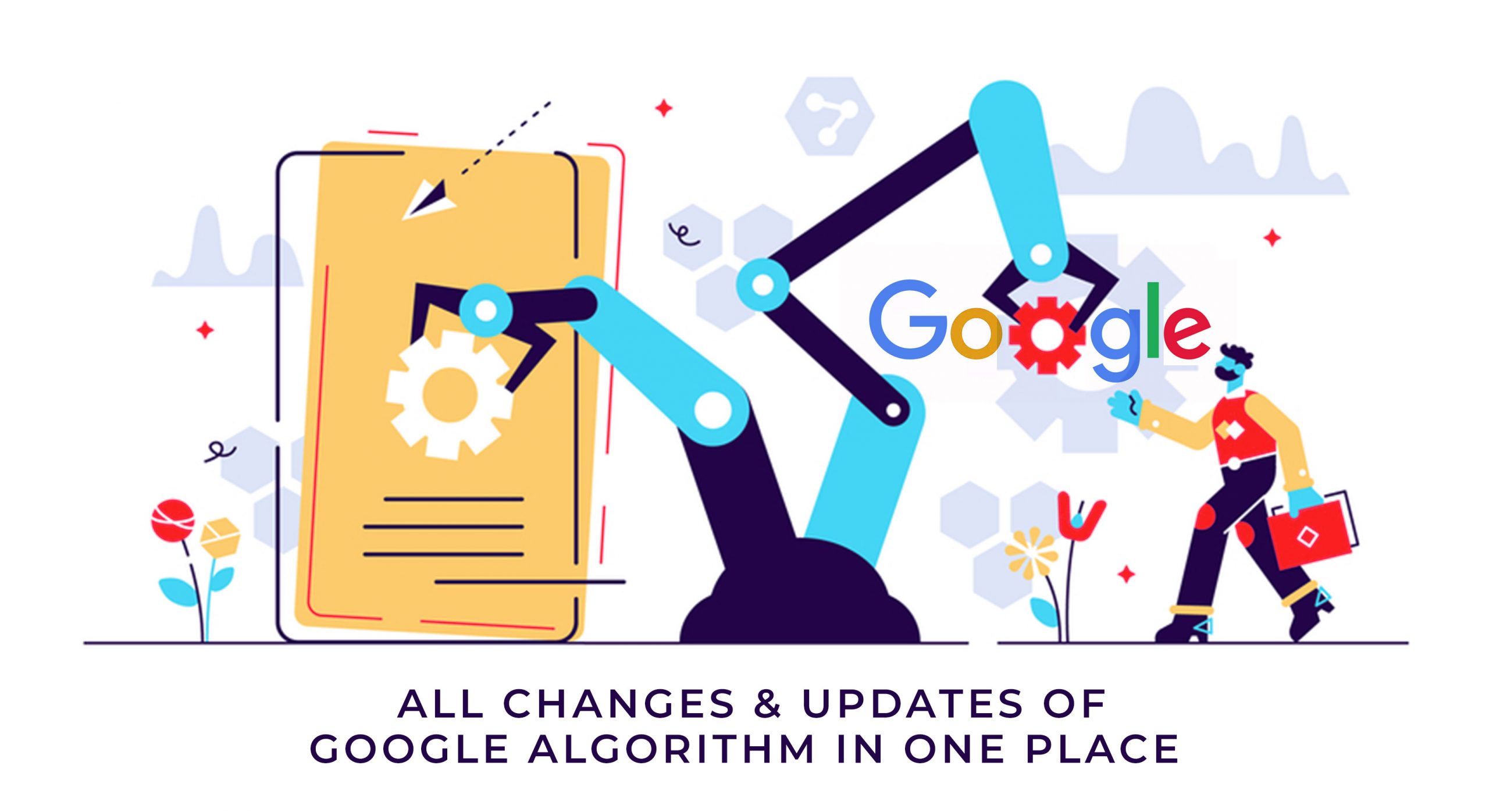 All Changes & Updates Of Google Algorithm In One Place
Google algorithm and its history of updates & changes always remain a topic of interest for digital marketers, SEO experts, brands, business houses, content marketers, bloggers, and all other Google Enthusiast.
The credit for the dynamicity in this search engine goes to Google Algorithm and the consistent updates it makes. It's not like any search engine algorithm in the world;
It's a complex system that analyses & assesses (in a fraction of seconds) the data from the search index to deliver the accurate possible results for the placed query. Their relevance ranks these accurate results on the search engine result pages (SERPs).
The relevance is measured by the combination of algorithms & numerous ranking signals. The search engine uses a combination of algorithms and numerous ranking signals to deliver web pages ranked by relevance on its search engine results pages (SERPs).
Before Google used to make only a few updates in a year, including major & minor, but now it makes like thousands of updates in a year, keeping digital marketers like us on their toes. Below we have compiled a list of Google algorithm launches, updates & refreshes rolled out over the various years.
May 2020 Core Update (4th May 2020)
The first Core update in the pandemic period is here, and Google has made it clear that the dynamic giant won't stop, and why it should, as it is being observed that now people are turning more online more than ever.
The May 2020 Core Update has caused more rank volatility increase than even the previous one (January 2020 Core Update). Content strategies again need to be assessed for containing the changes by this update.
Featured Snippet Deduplication (22th January 2020)
Google's Danny Sullivan has confirmed a significant change in its Featured Snippet practices. URL shown in the snippet earlier had the advantage of getting placed two times in the SERP.
Now with the deduplication change, the particular URL on a snippet will be given the status of the first rank. Hence no zero rank position is available from now on, and URL will only get one place in SERP as it used to.
January 2020 Core Update (13th January 2020)
Content producers, digital marketers, and other members of Google Rank Wars need to assess the reasons for the change of rank in the content they have already shared and take notes to prepare the content for future.
BERT (Worldwide) (9th December 2019)
Google has confirmed with their tweeted that BERT has started to get rolled out worldwide in seventy different languages. The update that the SEO community has been looking up to.
November 2019 Local Update (2nd December 2019)
Google's Danny Sullivan has finally confirmed what the SEO community has been suspecting for quite a time. There's a roll-out of a local algorithm update, officially named November 2019 local update.
With this, neural matching has been introduced to local algorithms. Now businesses with titles & descriptions that are vaguely related may appear within the top organic results as well as the Local Pack.
BERT Update (25th October 2019)
Google has announced that it has begun to implement the BERT (Bidirectional Encoder Representations from Transformers) algorithm. This can have an impact to 10% of all queries & is also cited to be the search engine's "Biggest leap forward in the past five years."
BERT is meant to assist the algorithm in interpreting a query by using a contextual understanding of the phraseology employed. The entire phrase will be analyzed at once that lets the BERT interpret the keyword concerning the words used in it.
In simple words, BERT will now assist Google in understanding the prepositions within a search query in a more precise & broader way, and also understand the multiple meanings of the world with context to understand.
September 2019 Core Update (24 September 2019)
Google has rolled out its third core algorithm update of 2019, and it has caused significant rank volatility till now.
Again it's the time for content producers, digital marketers, and other members of Google Rank Wars to assess the reasons for the change of rank in their content. This time they can hopefully find better reasons of deviation in a shorter time as anomalies are high.
June 2019 Core Update (2 June 2019)
Google has launched the pending core algorithm update and announced it through the tweet. This one believed to a broad core algorithm update that encompasses several factors.
The anomalies are high, which may make the digital marketers, content producers, and brands on the toes for working on their SEO & content.
March 2019 Core Update (12 March 2019)
It's been a year since Google has confirmed the first of its official updates, and now Google has released another broad change in its algorithm.
So it's time for digital marketers, content producers, and brands to optimize a bit & learn more about the updated algorithm. Google hasn't named it, but the month/year name is being widely used for keeping track of updates by Google.
Valentine's Day Update (13 February 2019)
The official announcement hasn't been made but yes if you are also facing rank fluctuations and then there are many algorithm trackers and industry chatters who are suggesting the same.
It is being called as 'Valentine Update' of course for the timing of it.