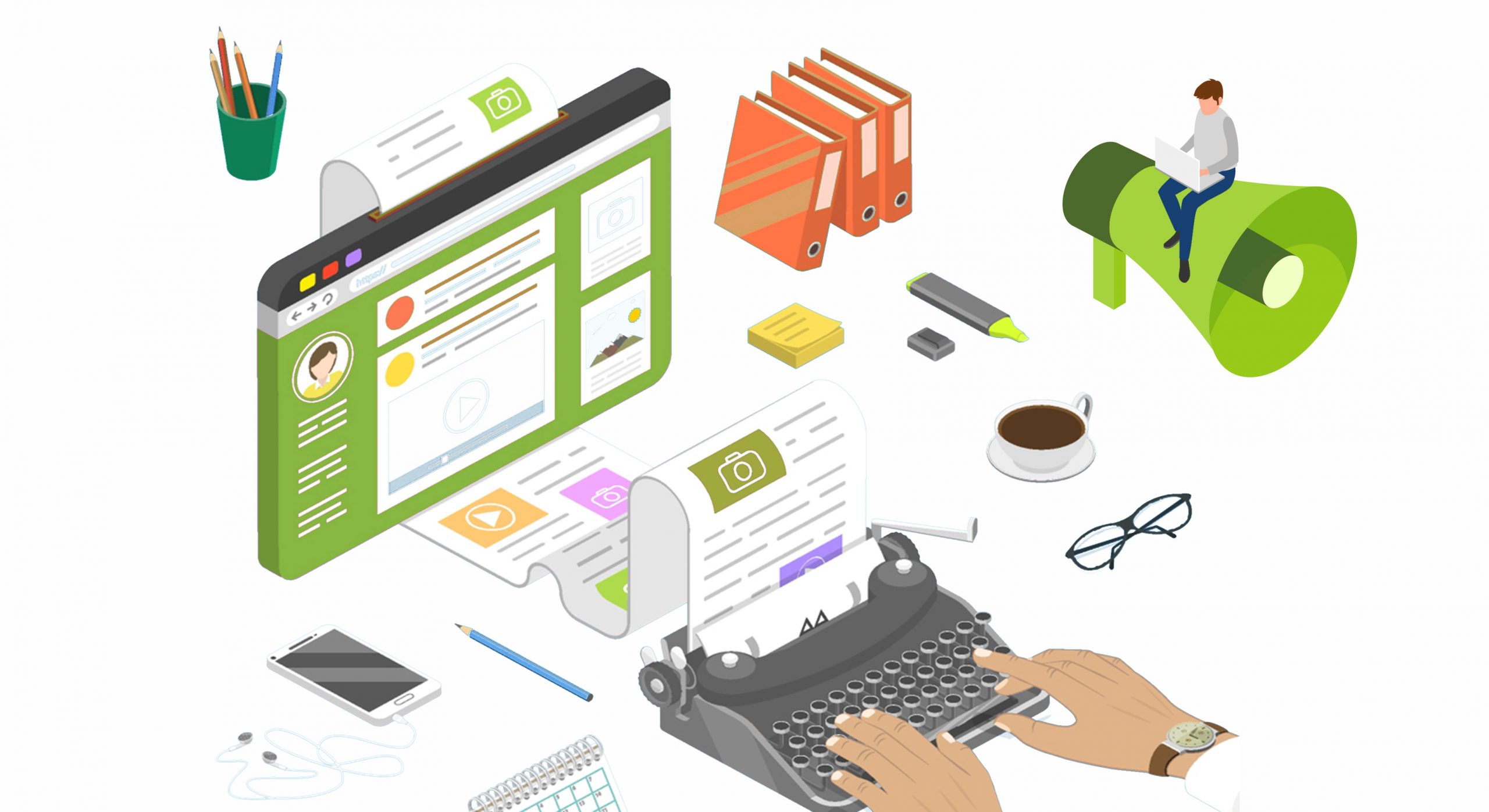 What Will Be Content Marketing Trends In 2021
Content marketing is a growing, innovative, and dynamic field. You might have also noticed firms change some of the other content on their websites during a short time, and later rebuilding/renovating the whole site every few years. In the era of digital India and the internet, it is essential to invest in the latest marketing processes like digital marketing and content marketing. Especially if your business runs online, you need to develop and recreate your content regularly, so consumers who visit your website regularly can always find something new and learn.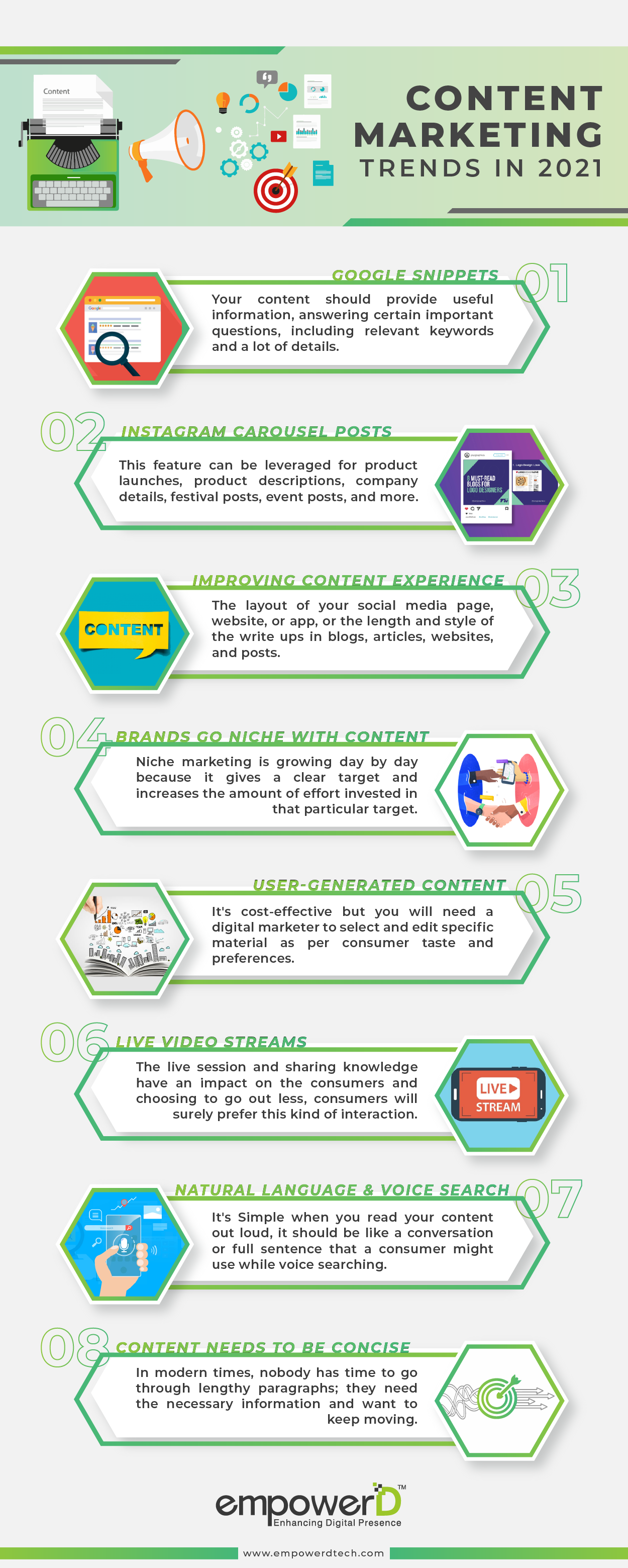 We mentioned earlier that content marketing is a very dynamic field, and the primary reason is Google. Many activities of content marketing are related to the ranking of pages, websites, or blogs on Google. It has a changing, evolving, and dynamic algorithm to assign value to pages. So content strategies and keyword use need to be changed as well. Now, as you know, today, images and videos also play a good part in content marketing. Consumer preferences of what they want to see or what attracts/entertains them also varies and changes with time.
So Below We Have Content Marketing Trends in 2021 For Your Digital Marketing Strategy:
Apart from digital marketing, content creation is also done for traditional marketing. In this blog, we have focused on content creation and content marketing strategy only as part of a digital marketing strategy. Following are points you must need to take care of while formulating a content marketing strategy:
Google Snippets
You must have noticed that when you google a question, then just below the search bar and above all the options, there's an answer in a rectangle box. That's a Google snippet, and this place is the dream of every business and content writer to achieve. It is also known as 'Position Zero' in digital marketing terminology.
The reason why it is so beneficial is that most of the people who google a question tend to open the link first seen by them. Snippet(s) is just below the search bar, and even above the ADs, you can only wonder how much traffic it can lead to your website. But having a zero position ranking isn't easy. The content of your articles needs to be strictly and accurately informative, factual, and maybe formal and detailed.
This is a free website promotion and lead generation tactic. The only investment is an excellent digital marketer with an experienced and knowledgeable content writer. Overall your content should provide useful information, answering certain important questions, including relevant keywords and a lot of details.
Instagram Carousel Posts
Instagram introduced the carousel posts option in 2017, and since then, it has been a hit. Small and medium enterprises don't post much aggressively, and often this feature remains underutilized. The reason why the carousel feature is essential for you to use is that it is trendy. You can post more in a single post, have more space for explaining the message, and prove to be a good slideshow option for you, your company.
The limit of the carousel post is of 10 images, and it gives a perception of the slideshow. This feature can be leveraged for product launches, product descriptions, company details, festival posts, event posts, and more. We know this feature isn't very new, but in 2021, carousel posting will help you better connect with your consumers. It is among the recent trends in digital and social media marketing.
Improving Content Experience
This point can be interpreted in many ways, as we have understood that content has many sub-types. The main goal is that the user/viewer should feel that content is as per their requirement and understanding. A digital marketer will always assess your business, and it's consumer before laying the plan of content. This is because to understand the demographics, wants, and social media habits of the potential consumers.
The layout of your social media page, website, or app, or the length and style of the writeups in blogs, articles, websites, and posts. Everything is thought over while forming a content marketing strategy. Personalized content is also essential for consumers. When done this and the consumer is consuming the content, it does the work of a direct seller. Consumers feel that they are interacting with an employee rather than just going through website pages, posts, or more.
Brands Go Niche With Content
If you ask an experienced digital marketer, he will explain how niche marketing has found its way in digital marketing. Today isn't it common for most of the business to have a website and social media accounts. They also have various digital marketing teams to push their rank, consumer engagement, and more.
The reason niche marketing is growing in this field is that it gives a clear target and increases the amount of effort invested in that particular target. Several players are doing content marketing, and maybe all of your competitors. So when you target a specific group and your content creation is done in a way so that a particular group can be attracted very conveniently, they will be satisfied and bring few other customers as well.
If you look at this point from a broader view, it can also be taken as a subset of the above point, which says about the content experience and personalized content. Social media marketing strategies are often the best courses to use for niche marketing.
User-Generated Content
It is widespread and widely accepted in B2C businesses. You might have heard about a phone company sharing photos clicked by their consumers on using their phones on their social media accounts, a vehicle manufacturing company sharing vlogs and travel videos of their consumers, a hotel booking company sharing videos of consumers' hotel experiences, and more.
This type of content creation can also be confused with hiring an influencer. Still, it is different as the consumer shares the content out of the will and satisfaction, and there's no payment for the same to him/her. Consumers highly rely on and user-generated content because it is a bit raw, unedited, and honest view of the consumer experience of the product.
This type of content creation is cost-effective and very simple to follow. But you will need a digital marketer to select and edit specific material as per consumer taste and preferences.
Live Video Streams
Consumers during this year have all the time in the world to view content posted by the company. During the lockdown, you must have seen many celebrities doing live video streams, but how will it benefit small and medium enterprises?
SMEs can come live and share about their workspace, essential announcements for consumers, their working process during the pandemic, their reformed measures of precautions, and more. An employee or staff coming on the live session and sharing the above points have an impact on the consumers and choosing to go out less, consumers will surely prefer this kind of interaction.
Apart from this, companies can also have paid or unpaid online seminars, webinars, and discussions for the benefit of the consumer, product awareness, or any social awareness.
Natural Language And Voice Search
Also, the families with the smart product might depend on voice programs and controls rather touching and will get habituated to the same. Your SEO and content will be affected by voice search, as you will need to focus on content creation naturally. One simple trick is when you read your content out loud, it should be like a conversation or full sentence that a consumer might use while voice searching.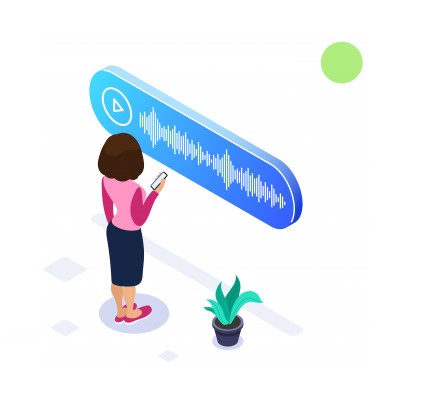 Today, voice searches and smart speakers are being accepted in India, and their use has also grown. Along with smart speakers, India also had an excellent sales record for smart TVs and smart computers. One such feature in all of today's smart products is voice search.
This trend is a bit futuristic as before COVID-19 voices searches were projected to get mainstream in India during 2021; now, this will be delayed as well. So why are we discussing it? Post COVID-19, many companies will be rebuilding their websites, social media accounts, and more. SEO will have been changed very significantly.
Like 'Content marketing trends in 2021' became 'What will be content marketing trends in 2021′. Long-tailed keywords shall be used, and these phrases often use shorter keywords, so it's a win-win situation as well.
Content Needs To Be Concise
This is one reason why content writers must be counseled while forming a content marketing strategy or social media strategy. The same goes for the content on images and length of the videos.
Concise doesn't only mean short. It means to have your content only of information and relatively short as well. In modern times, nobody has time to go through lengthy paragraphs; they need the necessary information and want to keep moving. You shall only choose to have a high amount of words in your blogs and only in rare cases in your captions.
The website content, post content, and more are expected to be to the point. Consumers are smart, and they'll know when you have just increased the word for the only purpose of ranking and keywords and not information. Professional content writers know when to use lengthy content and when to keep it concise.