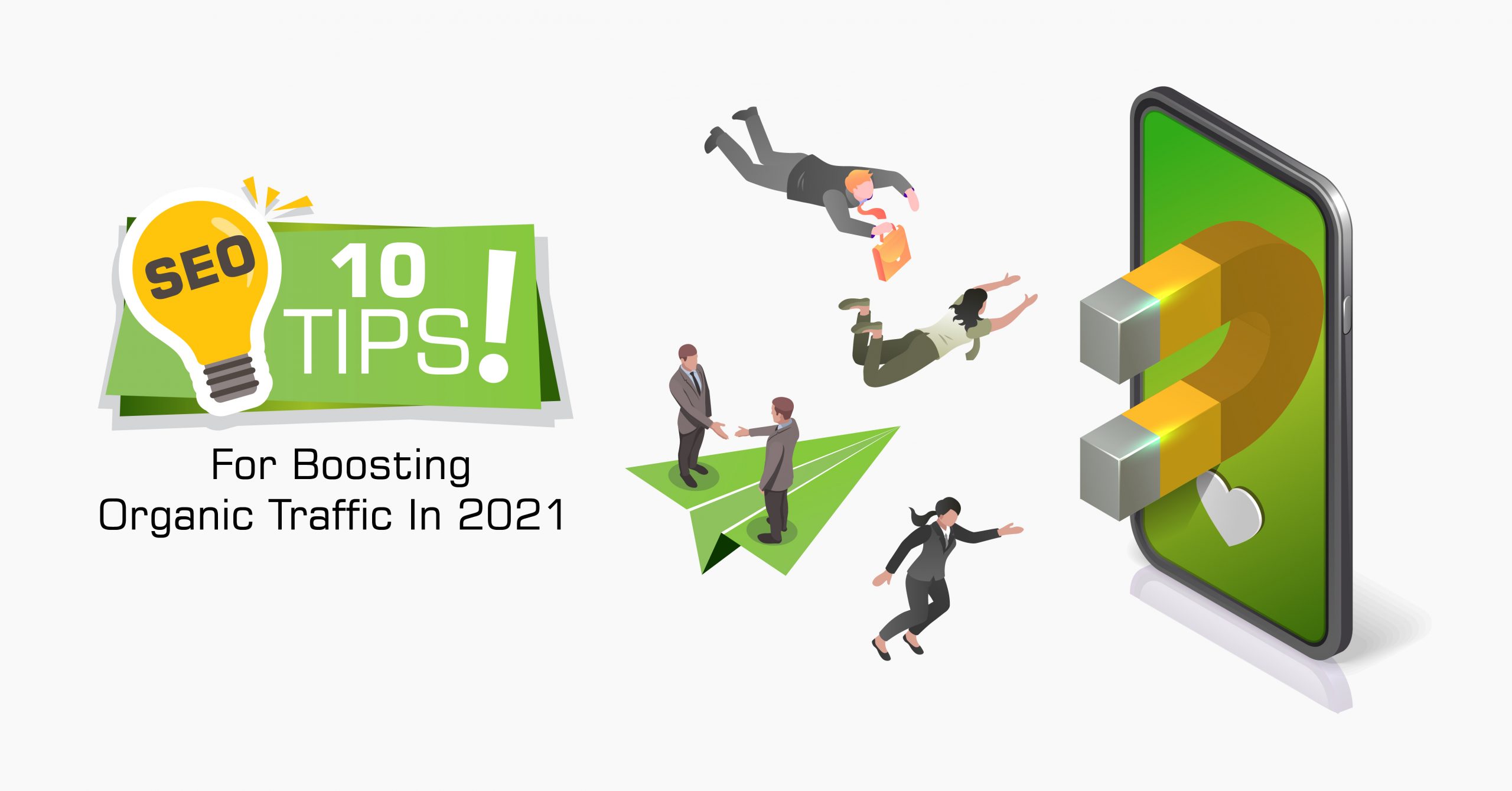 10 SEO Tips For Boosting Organic Traffic In 2021
Nope, it's not too early to search for SEO tips for boosting organic traffic in 2021. To be honest, it is the correct time if not late.
2020 has not been a full-fledged business year, and the reason is COVID-19, which will still haunt everyone in 2021 too. But as it has been observed so far, digital marketing services' scope, demand, and importance have only grown post lockdown. This trend is expected to continue, at least at a constant rate if not increasing.
No doubt that e-commerce and online selling will continue to grow throughout 2021, and every business, like always, will be in the race of being the first in search results.
Search Engine Optimization services have always been in demand for the type of exposure and the number of organic leads they can provide. Today having a first-page presence is one of the primary goals for most of the brands, and this fact is enough to understand why it will be helpful to look for tips for boosting organic traffic in 2021.
1. Understand User Intent
User intent is the purpose or intention of the user behind performing a Google search. With the times becoming competitive, users even tend to accept/reject content by initial look.
Make sure that your content fulfils the purpose of a user-directed to it by a search result. If the same doesn't happen, your website will surely have an increase in bounce rate as it will not provide them with what they are looking for.
What you can do to satisfy a user here:
Keep generating new content on current topics (Blog, articles, and more).

Keep updating the content piece (Website, call-to-action page, and more)

Work on maintaining a uniform tone and content style for every medium where you share the content.
This first tip is regarding content marketing, and developing content after understanding the user intent is a win for SEO in 2021.
2. Target PAA (People Also Ask)
SERPs (Search engine response pages) in 2020 have more to offer than just ten search responses on Google's first page. So how can SEO tips for 2021 will not include a tip for targeting PAA.
As per SEMrush Sensor, the average percentage of SERPs with PAA has grown to about 40-42% for both desktop and mobile. So it's definitely something that SEO experts need to work on.
Having a presence on the first page as PAA are there on 75% of search results.
Ranking twice on page 1, as it can be possible that your specific web page is also there and PPA related to it is also there.
Getting first-mover advantage as many marketers aren't paying attention to this right now.
You can optimize for PAAs by:
Address questions in your content like how, what, and more.
Use questions in heading and subheadings.
Using schemas and FAQs.
Try making content more organic and natural.
Research and list keywords that are highly suited for PAAs.
3. Keep Researching Keywords
Keyword targeting is among the most fundamentally true methods of driving traffic to one's website.
Above we explained the importance of consistently updating content, it also covers updating your keywords list by performing regular researches. By doing this, the new content you'll develop will be as per the new keywords, and old content will be updated as per the requirement.
But this doesn't have to be done purely based on their volume or CPC, but as per the content you are preparing. When keywords are placed in content organically, they provide the best results.
List out keywords that play with your niche; this is among the most useful tips as it will directly synchronize with your target audience. Thus, when you perform comprehensive & quality research, you'll get the most effective keywords.
4. Build A Mobile Friendly Site
It's a fact that with the growing use of smartphones, maximum searches are being placed from mobile devices. So this is why it is important to ensure that your website is optimized for the same.
Google doesn't hold back in rewarding websites that are mobile-optimized, so this is among the SEO tips for 2021 that you shall work on. As times have become more and more competitive, today you can research mobile and desktop keywords separately.
Today, digital marketers shall even focus on mobile optimization during the stage of website development. This allows the removal of the website's unimportant aspects for a mobile interface during the initial stages only.
Other than this, tactics like creating concise content, placing engaging and helpful material in front, and targeting readers with mobile-optimized keywords are most effective.
5. Focus on Improving Page Speed
So far, has this blog been satisfactory in serving your purpose of enquiring for SEO tips for 2021? If this page would have taken too much time to load, won't you have left or stayed with a negative first impression!
Such influence page speed can have on a visitor. This subconsciously affects the perception of visitors, as well-optimized and developed pages load within the blink of an eye. The statistics below agree with us:
40% of the users abandon

the website that takes more than 3 seconds to load, and 80% of visitors won't return.

Slow-loading websites cost retailers a loss of

$2.6 billion

every year in sales.
So if you haven't optimized your page speed by now, keep it on your priority otherwise you might lose a potential client. Last thing you'll like to know is that even Google ranks your website lower when your pages load slow.
6. Optimize For Voice Search

So if you haven't optimized your page speed by now, keep it on your priority otherwise you might lose a potential client. Last thing you'll like to know is that even Google ranks your website lower when your pages load slow.
So your SEO strategy for 2021 need to include optimizing your content for voice search, which can be done by:
Using long-tailed keywords with first-person speech.

Using schema markup so that search engines can show illustrated results.

Creating FAQs for your website.

Developing content in more of a conversational tone that users often have in casual conversations. 

Getting listed on Google My Business to help local users find you.
In the upcoming time, you can receive massive organic traffic by optimizing for voice search optimization. 
7. Start Optimizing Your Images

Content marketing has often focused on optimizing the written content. Still, now it's high time that images which also form up a significant part of online content and are even the future of online content are given equal credit.
Google has shared that it is moving forward to adding more and more visual content for which image optimization is a must. So SEO tips for 2021 shall include this if you have not taken it seriously in 2020.
This is a proven trick that whenever an SEO strategy has included optimizing images, the organic traffic on the website has undoubtedly boosted. Which gradually rank ups your website and assists you in realizing your goal of the first-page rank.
While optimizing images, one shall take care of a few things like poorly optimized images may result in slow web pages. Also the alt text with image needs to be descriptive, distinctive, and relevant.
Link-building is widely used method for boosting organic traffic; every time you will search for SEO tips, the article/blog will mention 'build quality links'.
As per a report, 91% of the pages never get any kind of organic traffic because they don't have backlinks. This is the main reason why SEO experts first look for add inbound/outbound links in their content.
Using descriptive text for adding links.

Consistently checking pages without links on the website.

While adding a link to any kind of stats, report or other source check how old they are. 

Adopt internal linking to redirect users from one page to another.
Also, there shall be caution while performing this as if link building is not done in the right way than it can to penalties, account suspension, and more.
9. Get Rid Of Toxic Links
It's a fact that backlinks help your website rank up, but the wrong type of links harm your rankings as well.
The definition for the wrong type of links is that any link which manipulates PageRank or the site's ranking in Google search results may be considered unnatural/toxic and be part of a link scheme and a violation of Google's Webmaster Guidelines.
This even includes any behaviour that manipulates the links towards your site or outgoing links. If you are lucky, Google might just ignore such links, if not, it will harm your rankings.
As part of SEO, professionals always clean up this link, but with Google making its policies around such topic tighter, one should regularly check if their website has any toxic link or not. These are the ways you could have got a toxic link:
Bought links or received in exchange for gifted products. 

Low-quality bookmark or directory site tactics. 

Link building by matching the anchor text.

Negative SEO Tactics

Large-scale article marketing or guest posting.
10. Lookout For Your Competitor's Broken Backlinks
Everybody is aware of the fact that how tough it is to build quality backlinks, so one tactic that can make your work simpler is using a variant of a broken link building.
This tactic goes as to find links which point to 404 pages, check for URL error. The ones to have errors will not be acquiring PageRank through the links that are pointed to them.
Analyse these links further and filter them for do-follow, if necessary, create content for them as well for pointing them towards your website.
This will not cause any harm, as the link was already dead and you organically convert it towards your website.
So this is what it will take to boost organic traffic in 2021. We will be sharing SEO tips to follow and even not follow throughout the year, but currently, these are ones that you should follow while preparing for 2021.
EmpowerD is a digital marketing firm that aims to enhance the online presence of brands, organizations, and firms through creative & innovative tactics. We believe in cost-effective, long-term, and scalable results.